Just like Christmas, the days after Easter  leave you faced with all the leftovers in the house before you can get back into a normal eating routine… so, here at Castle Marina, we're rounding up 4 of the best (and super easy) Easter recipes you can make with that leftover chocolate!
With their spring kitchen sale well underway at Wrens Kitchens, book your kitchen viewings and fittings today – picture yourself cooking up a storm using your new oven, pans, trays, and bowls with these super tasty recipes…
Chocolate nest cakes
Is it even Easter without the classic chocolate nest cakes? A super simple and easy recipe, and all you need is either rice krispes, corn flakes or rip up some shredded wheat for the ultimate nest look. Then, simply melt your chocolate of choice and mix both the melted chocolate and your choice of cereal before decorating with mini easter eggs, or golden eggs if you're feeling a bit extra, before putting them in the fridge to set for a couple of hours before devouring with a warm cup of tea.
See full recipe here.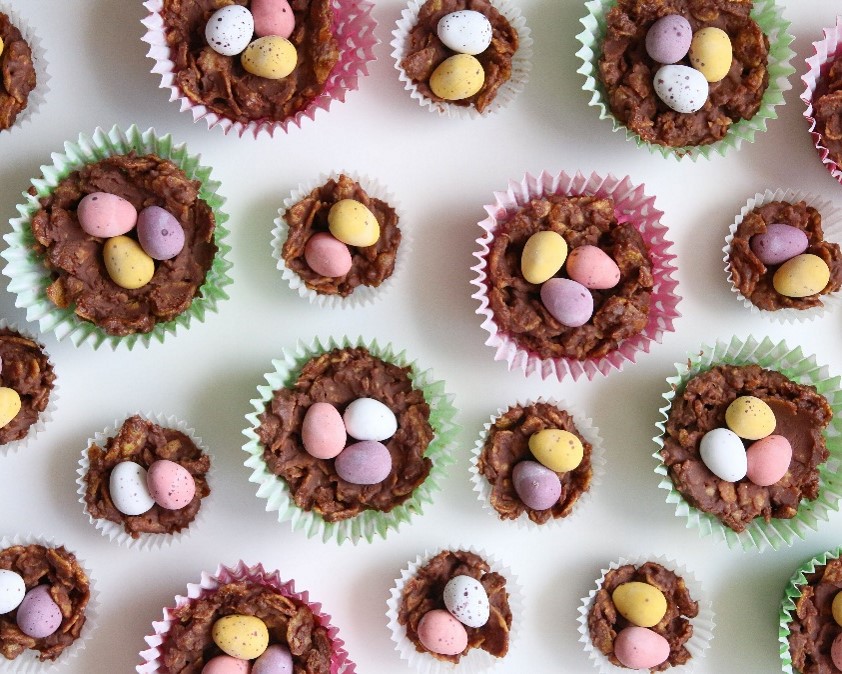 Mini egg cookies
Whilst we're on the topic of mini eggs, why not opt for a gooey mini egg cookie? All you'll need is your usual cookie making ingredients – flour, sugar, baking soda and then add as many mini eggs as you please!
To ensure that the cookies are filled and bursting with mini egg delights, chop up at least 200g of Mini Eggs to include within the gooey mix and at least 50g Mini Eggs to decorate once you've placed your cookies on a baking tray. If you want them extra chocolatey, why not melt some white chocolate to drizzle all over once they're cooked and ready to enjoy?
See a simple recipe here.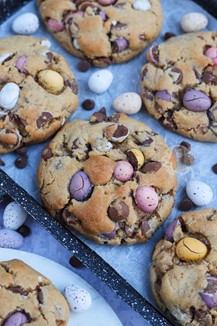 Easter chocolate bark
Another super simple and easy Easter sweet treat we have for you is this Easter Chocolate Bark, and the best thing is you don't even need an oven.
All you need is some white chocolate, milk chocolate, sprinkles, and your choice of decorations! The easiest recipe of all. Start by melting your chocolates separately until smooth, before pouring half of each onto a tray. Then, pour on the other halves before swirling together with the end of a cake skewer or similar. To finish, sprinkle your Easter decorations and pop in the fridge to set for an hour or so. Tuck in!
See the full recipe and method here.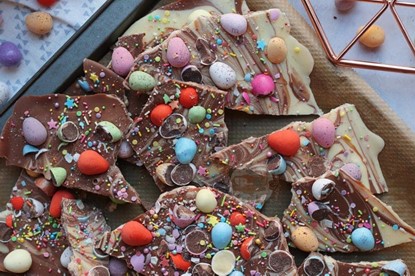 Vanilla easter cake decorating
If you're not a big fan of the Easter treats, why not put an Easter spin on a classic Victoria sponge cake?
Decorate your Victoria sponge with an en-vogue pastel blue buttercream frosting. For this you'll need your usual buttercream ingredients such as butter, salt, vanilla extract and soft icing sugar or powdered sugar.
To get that lovely pastel blue effect, add a few tablespoons of blue food colouring or gel. Then for decorating, all you'll need is some easter eggs, coconut flakes for the nest, some water, and some cocoa.
Toast some coconut flakes and scatter them on the top of the cake to get that nest look, and after mixing both the water and cocoa powder, scatter on top of the blue icing to get the ultimate egg look, before finishing the cake with mini eggs.
See full recipe for the icing and decorating here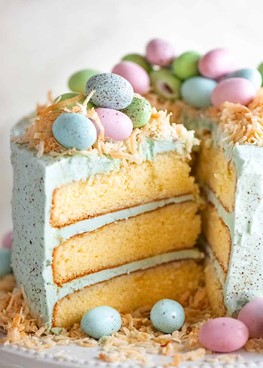 Now after imaging yourself creating these tasty, sweet treats in your dream kitchen – are you ready to turn that dream into a reality? Get messy in the kitchen over the Easter holidays… your newly fitted Wrens kitchen is only around the corner!
Send in your photos to us via castlemarina@equinoxcommunications.co.uk and we'll share them on our social media channels!