You eat there. You sleep there. For the past year, you've even worked there. Yep, you've guessed it – it's your own home.
Experts predict we spend up to three quarters of our lives in our own homes, and throughout lockdown we've all become more aware of our soft-furnished surroundings than ever before. After so much time spent looking at the same four walls, it's only natural that our interior design choices have come to take on a new significance for self-expression.

So what does your interior design say about you? Is your wall colour sharing a subliminal message, or your lighting giving off a vibe? We've looked at several interior design styles to see what they say about you – your personality, your hobbies, and of course, that special accessory that can make a house your home.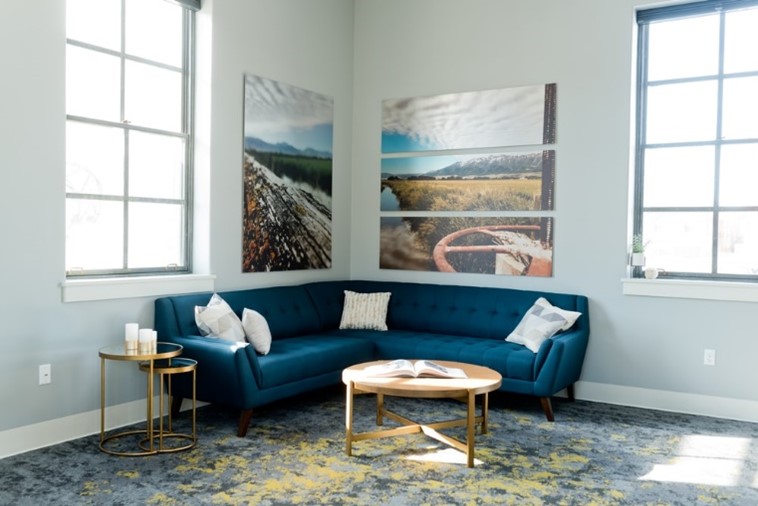 All products are available at Castle Marina stores, which are now open with strict Covid-19 Health and Safety procedures in place. This includes social distancing and sanitising stations throughout the park. For more information on these procedures, please visit our Covid-19 information page.
Interior style: Gothic Romanticism
You are bougie and brilliant, bold and a bit of a maverick. You have the kind of style that all of us have wanted to try, but few of us have had the guts to do. Your bedroom– sorry, boudoir - looks like something out of a novel by one of the Brontë sisters and you're never more than two metres away from velvet.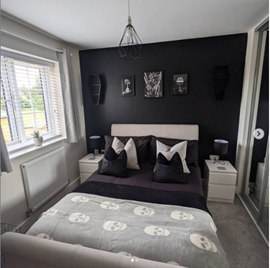 Photo credits: Instagram @homeatthequill. Bed from Dreams, skull throw from Homesense.
Home accessory
There's a fine line between Dracula Chic and Night of the Living Dead. Bring it back to life with foliage and plants to invigorate the senses. Be sure to experiment with textures and surfaces too – after all, suede black and marble black are entirely different shades.
Interior style: Pastels
You're often referred to as the parent of your friend group. You're kind, considerate, balanced and always have the best advice. You believe the kitchen is the heart of every home and have a trademark bake that everyone looks forward to at office gatherings, parties and get-togethers.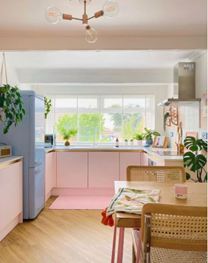 Photo credits: Instagram @homewithhelenandco. Kitchen cupboards by Wren.
Home accessory
Don't be afraid to splurge on that quirky home accessory you've been eyeing up for months – a funky light fitting, high end tea towels, even a novelty fridge magnet. A pop of personality is all your need to complete your elegant aesthetic.
Interior style: Bold Hot colours
Wow! Your home is abuzz with energy and positivity. Never the wall flower, you are always ready to host parties, get-togethers and even surprise visits. Hidden storage solutions? No, thank you! There's always a story behind your home accessories and you display them loud and proud.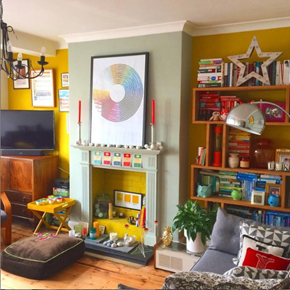 Photo credits: Instagram @ahouselessordinary_. Sofa from DFS.
Home accessory
It's great that you have so many statement pieces, but remember too many talking points make a room noisy. Natural textures and tones are a great way to keep some colour in your living quarters without overwhelming the eyes.
Interior style: Cold colours
Mary-Kate Olsen once described the difference between her and Ashley Olsen as "She thinks the opposite of fire is water, and I think the opposite of fire is no fire". This is the best way to describe the difference between you and your Hot Coloured counterpart. You like logical, organised, geometric design styles and always know where everything is.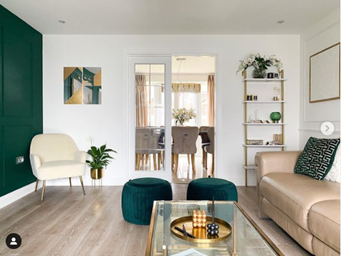 Photo credits: Instagram @tin.n.mim. Chairs from Furniture Village.
Home accessory
One word – metallics. A gold tray or silver candelabra adds another dimension to simpler Scandi/Nordic rooms. The luxe essence also makes their placement look intentional, meaning this is a great way to disguise the occasional clutter.
Interior style: Neutrals
Happy-go-lucky, open-minded and a little bit spontaneous, you are more likely to be found hiking in the Peak District than you are at home. On the rare occasion you're staying in, you barely sit still: you're either planning your next adventure or putting together photo albums of your last one. The earth-toned aesthetic also happens to be great for disguising dirty boot prints and pet hair.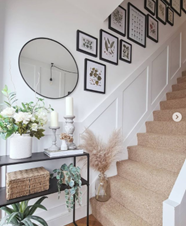 Photo credits: Instagram @athomewithfoxandfern. Carpet by Carpet Right.
Home accessory
Don't let your neutral aesthetic be mistaken for blandness. Share your adventures with everyone who visits by displaying photos wherever you can. Your latest summit, your deepest dive, even collector's items all make for fascinating home décor.
Interior style: Monochrome
Walking into your home is like being in a movie from the 20s. Your mantra in life is 'simple, yet effective'. You understand that less is more and can style a room with just two colours. You are efficient and elegant, stylish and strategic. You know what you want, when you want it, and no one is going to stand in your way.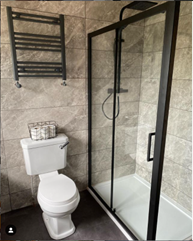 Photo credits: Instagram @themoorlandsreno. Flooring by Tapi Carpets.
Home accessory
Experimenting with accessories may seem a little counterintuitive, but playing with texture, pattern and print is a great way to ensure your aesthetic is clean, but not cold. Dare we say it, but a pop of colour or even a different hue can make the difference between a room that you live in and a room that you live for.