It's finally summer! That means, it's time for the seasonal triple threat: Short-shorts, sandals and sunglasses. BUT, here at Castle Marina Shopping Park, we don't want you to forget one of the most important add-ons to your summer: SMOOTHIES. 
Luckily, Costa Coffee is helping Castle Marina (and you) get summer-ready with the launch of their #SeriouslySummer smoothies – fresh, vitamin-packed smoothies – a perfect addition to your road-trip sing-a-longs, energy after an active day or in partnership with your go-to strappy sandal outfit. Whilst they have other new summer items, including indulgent drinks such as Strawberries and Cream or Mint Chocolate Chip creamy cooler, we love that these four new summer smoothies include the added health-kick of using real, fresh fruit.  
So, just what ingredients are in these four fresh smoothies, and which one is your favourite? We know that deciding on just one can be tough. So, let us help make your decision a little easier.
Here are the new Costa smoothies hitting Castle Marina this summer, and the suggested health-benefits of ingredients that can help you make your choice (according to Healthyeating.org).
Green SuperDay Smoothie: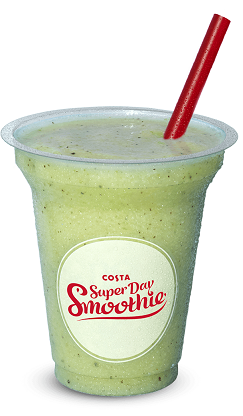 1 of your 5 a day - Fresh melon, kiwi and apple freshly blended by your Costa barrista.
Melon: Filled with Vitamins A and C, it is also potassium-rich and has anti-inflammatory properties great for when you are feeling under-the-weather.
Apple:  Packed with disease-fighting compounds, and promote a healthy digestive system while detoxifying your liver and boosting your immune system. A definite super-fruit.
Kiwi: One average-sized kiwi has more vitamin C than an equivalent amount of Orange. Kiwis are also a great source of mineral potassium and may significantly lower your risk for blood clots and help protect cardiovascular health. 
Tropical Fruit Cooler: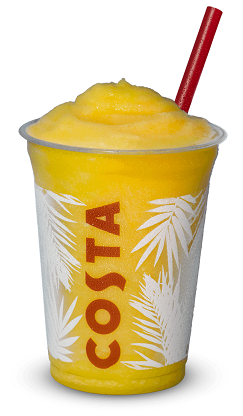 Summer in a cup! A blend of pineapple, lime juices and coconut milk.
Pineapple: Packed with Vitamin C and flavour, it's been suggested that pineapples also have anti-inflammatory properties and digestive benefits.
Coconut Milk: Abundant in C, E and B vitamins, which boost the immune system and give you an extra boost of energy. Coconut milk is also rich in Lauric Acid which, according to the National Center for Biotechnology Information, has many germ-fighting, anti-fungal and anti-viral properties that are very effective at ridding the body of viruses, bacteria and countless illnesses.
Lime Juice: High in vitamin C, and a good source of folate and thiamin. Vitamin C is a powerful antioxidant and is required for the synthesis of collagen, which helps wounds heal and helps hold blood vessels, tendons, ligaments and bone together. Great for an active lifestyle.
Yellow SuperDay Smoothie: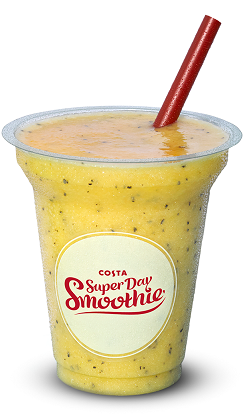 Fresh pineapple, mango, melon and passionfruit freshly blended by your Costa barista.
Passionfruit: Besides being absolutely delicious, passionfruit are very fibrous, and one serving fills 43% of your daily Vitamin A and 20% of your daily iron requirements. The high-potassium and no-sodium make-up of Passionfruit also makes the fruit highly effective in protecting from high blood pressure (great for stressful occasions).
Mango: Mango's have been known to clear skin, improve eye health and improve digestion. Research also shows that the antioxidants found in mango's have been found to protect against several cancers, including colon, breast and leukaemia.
Red SuperDay Smoothie: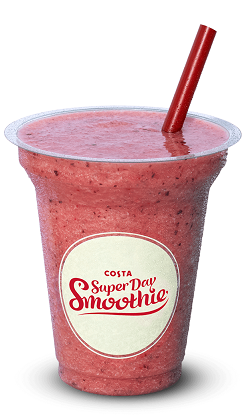 Fresh grapes, strawberries and watermelon blended by your Costa barista.
Strawberries: Full of anti-oxidants, strawberries are also low in calories and fat, helping satisfy your sweet tooth without the major calories.
Watermelon: Vitamin-rich and packed with anti-oxidants. Watermelon is especially delicious in the summer, refreshingly-satisfying your sweet tooth while helping combat the heat. 
Grapes: Due to their high-nutrient content, Grapes have powerful antioxidants, which can slow down the aging process and promote a health digestive system. They also have a well-known therapeutic value, promoting a healthy body and mind with essential vitamins and nitric oxide. 


To be honest, we love all of the #SeriouslySummer Costa smoothies and are having a tough time deciding our favourite.  What's your number-one Costa smoothie? Pop it in the comments section, and tell us your favourite choice!